Detail of Hospital Layout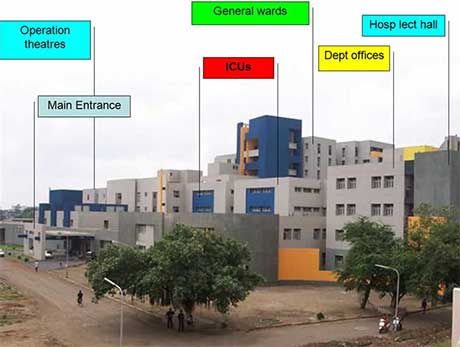 Department wise Layout
Please scroll/drag below block to view whole data
Department
Department Office / Block
OPD Room No
Indoor Ward
No of Unit
No of Teaching Beds
Special Beds
Medicine
2nd Floor
11
E-4, E-5
6
180

ICU (8-Beds)
ICCU (8-Beds)
Dialysis (6-Beds)

Paediatrics
1st Floor
39
E-1
3
90

NICU (13-Beds)
PICU (8-Beds)

Skin
1st Floor
10
D-2
1
15
Anesthesia
1st Floor
25
---
---
---
Pulmonary Medicine
1st Floor
42
E-5
1
30
Psychiatry
1st Floor
25
D-2
1
15
---
Surgery
2nd Floor
07
E-2, E-3
6
180

SICU (10-Beds)
Burn ICU (16-Beds)

Dental
2nd Floor
40
---
---
---
---
Orthopedics
1st Floor
12
E-3
3
90
---
ENT
3rd Floor
20
D-3
1
30
---
Ophthalmology
3rd Floor
21
D-3
1
30
---
Ob & G
1st Floor
26
D-1
3
90
Radiology
Ground Floor
G-Block
45 / 46
---
---
---
---
Pathology
Ground Floor
G-Block
50 / 52
---
---
---
---
Physiotherapy
Ground Floor
E-Block
100
---
---
---
---
Casualty
Ground Floor
1
---
1
---
20 Beds
TOTAL
27
750
101 Beds
Block wise layout
The Hospital has 6th Block. i.e. " D ", " E ", " F ", " G ", " H ", and " I " Block. These are interring connected.
Please scroll/drag below block to view whole data
D

Ground + 3 floor
Ground floor:
O.P.D.:

Obstetrics & Gynaecology
Paediatrics
PPTCT
Vaccination
Ophthalmology
E.N.T
Skin / Pulmonary Medicine
Psychiatry

Indoor Ward on 1st, 2nd & 3rd Floor i.e.

Obstetrics & Gynaecology
Skin & VD
Psychiatry
ENT
Ophthalmology
Eye Bank
Labour room with Special room

E

Basement + Ground floor + 7 floor
Basement: GROUND FLOOR:

Waiting space for patient's relatives
Case window
Pharmacy
Dental OPD
Hospital Medical Stores
Physiotherapy
Central Medical Store

INDOOR WARDS:

Paediatrics Ward
Surgical Ward
Orthopaedics Ward
Medicine Ward
Pulmonary Medicine Ward
Burns Ward

F

G+ 2nd floor + Basement
Basement


Laundry
Central Sterilization (CSSD)

GROUND FLOOR FIRST FLOOR SECOND FLOOR


Office of the Medical Superintendent.
Hospital committee room

G

G + 3 floor
Ground floor

Medical Store
Casualty
Casualty OT
X-Ray, Sonography
Clinical laboratory section
Blood bank
Inquiry

FIRST FLOOR

Gynaecology OT, Recovery room
Paediatrics I.C.U.

SECOND FLOOR

Surgical OT, Recovery room
Surgical I.C.U.

THIRD FLOOR

E.N.T. O.T
Ophthalmology O.T
Ortho. OT, Recovery room
Medical I.C.C.U
Ortho. OT, Recovery room
Medical I.C.C.U

H

G + 3 floor
Ground floor

Medical OPD
Surgical OPD
Skin O.P.D.
Injection room, Minor O.T.

FIRST FLOOR

N. I.C.U
Project "Yashoda" (Human Milk Bank)

SECOND FLOOR THIRD FLOOR

I

G + 3 floor
Ground floor
Out Patient departments of:

Orthopaedics
E.N.T.
Pulmonary Medicine
Anaesthesia

FIRST, SECOND, THIRD FLOOR

Departmental Office of Medicine
Surgery
Paediatric
Skin
Pulmonary Medicine
Psychiatry
Orthopaedics
E.N.T
Ophthalmology
Anaesthesiology
Obstetrics & Gynaecology

Seminar room with Audio visual aids.
OPD LAY OUT OF SMIMER – HOSPITAL