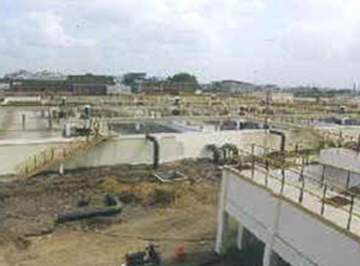 Total Habitable Area

5293 Hact.

Area Coverage

76.88 %

Total Population (Census 2001)

4.10 Lacs

Population Catered

92.12 %
In this zone 76.88 percent of the area & 92.12% of population has been covered by the sewerage network. While sewage is treated in the 120 MLD capacity sewage treatment plant at Bhatar and 25 MLD capacity sewage traetment plant at Khajod and the treated sewage is disposed off into the Kakra khadi. In the area bereft of the network, the sewage along with wastewater from local small-scale industries is being discharged into the River Tapi/Kankara khadi through storm water drains or is being disposed through septic tanks and cesspools.
According to the sewerage scheme of this zone, there will be a sewage treatment plant at Bhatar, with an ultimate capacity of 236.0 MLD and at Khajod with an ultimate capacity of 51 MLD, Nine sewage pumping stations, and transmission lines from each pumping station to the sewage treatment plant and sewerage network of NP-3 / NP-4 class RCC pipes.
Sewerage Network
The sewerage network of Athwa, Nanpura, Khatodara and Umara were laid back in 1980s and 90s. As per Master Plan, the network within Athwa and Umra will be rehabilitated during the year 2009-12. The sewerage networks in the area of Vesu, Rundh, Magdalla are commissioned recently. In rest of the area of South-West drainage zone, it is planned to provide decentralised sewerage system to the underdeveloped and developing area, since it has scattered inhabitants as well as huge agricultural zone and air port land within the zone.
Sewerage Pumping Stations
All the sewage pumping stations in the area are under operation since 1980s and 90s. except the sewage pumping station at Althan, which has been commissioned in May 2002. The pumping stations in Vesu area has been recently commissioned. The pumping station at Athwa and its rising main were rehabilitated in the year 2007.
Sewerage Treatment Plant
The Bhatar sewage treatment plant of 120 MLD capacity and based on the Conventional Activated Sludge Process, is under operation since 2003 and is the largest capacity sewage treatment plant in the city. 1.0 MW biogas based power plant was commissioned at Bhatar STP in August 2008. The sewage treatment plant at Khajod, having 25 MLD capacity and based on Moving Bed Bio Reactor Process, is commissioned in 2009.
As per the master plan, the sewage treatment plant at Bhatar will be augmented by 60 MLD during 2012-14. Whereas the sewage treatment plant at Khajod will be augmented by 25 MLD during the year 2021-26.
New South West Drainage Zone
The Sewerage system for New South West Drainage zone, having area about 26.08 Sq.km, has been planned under National river conservation plan (NRCP).
Total cost of the project for Phase - I (upto year 2029) is about 137.70 Cores. There will be 8 nos of pumping station and 2 nos of sewage treatment plant having capacity of 53 MLD.