Surat is located in the state of Gujarat, which is in the westernIndia.
It is situated on the bank of the perennial river Tapti which flowinto the Arabian ocean.
The Arabian Sea is to its west at a distance of about 22 kilometres along the Tapi and about 16 kilometres by road.
The location of Surat is 21o15'N Latitude and 72o52'E Longitude.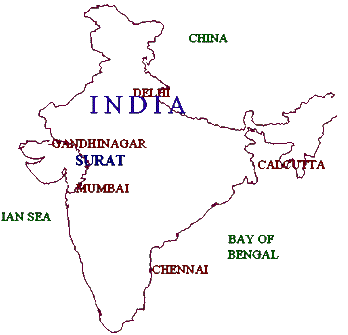 Due to its geographical location and the proximity to the Arabian Sea, itenjoys a very pleasant climate throughout the year.
It enjoys a pivotal place in the Mumbai-Ahmedabad corridor and is 230kmsaway from Ahmedabad and 258 kms away from Mumbai.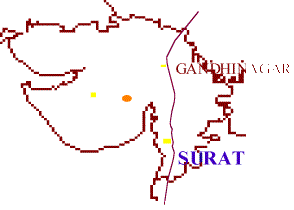 National Highway 48 passes within 16 km of the SMC boundary and is one of the busiest inter-state trunk routes in the country.
Surat can be reached from Ahmedabad or Mumbai through frequent trains. (Please visit http://www.trainenquiry.com or http://www.indianrail.gov.in/ for train details. )
The distances of Surat from various cities of India can be studied from the following table :
Distance of Various Cities of India from Surat:
Distance of Various Cities of India from Surat

| City | Dist. (in KM) | City | Dist. (in KM) | City | Dist. (in KM) | City | Dist. (in KM) |
| --- | --- | --- | --- | --- | --- | --- | --- |
| Agartala | 3105 | Dhule | 220 | Kandla | 581 | Rajkot | 471 |
| Agra | 1083 | Dibrugarh | 3070 | Kaniakuari | 1829 | Rameshwaram | 1798 |
| Ahmedabad | 255 | Dimapur | 2905 | Kanpur | 1160 | Ranchi | 1670 |
| Aizawl | 2972 | Dindigul | 1577 | Kochi | 1583 | Ranipettai | 1416 |
| Ajmer | 781 | Durgapur | 1821 | Kohima | 2970 | Raurkela | 1460 |
| Akola | 497 | Ganganagar | 1202 | Kohlapur | 595 | Rohtak | 1241 |
| Aligarh | 1152 | Gangtok | 2270 | Kota | 792 | Sagar | 834 |
| Allahabad | 1202 | Gaya | 1577 | Kozhikode | 1389 | Saharanpur | 1357 |
| Ambala | 1362 | Ghaziabad | 1189 | Krishnagiri | 1285 | Salem | 1400 |
| Amritsar | 1478 | Ghazipur | 1399 | Kurnool | 1074 | Sambalpuri | 1287 |
| Asansol | 1781 | Gorakhpur | 1503 | Lucknow | 1237 | Shahjahanpur | 1355 |
| Aurangabad | 363 | Gulbarga | 845 | Ludhiana | 1475 | Siliguri | 2156 |
| Bhaktiyarpur | 1610 | Guntur | 1216 | Madurai | 1722 | Shillong | 2741 |
| Bangalore | 1276 | Gurgaon | 1150 | Mangalore | 1136 | Shimla | 1513 |
| Barauni | 1673 | Guwahati | 2631 | Meerut | 1235 | Shivpuri | 839 |
| Barddhaman | 2054 | Gwalior | 1123 | Moradabad | 1336 | Silchar | 2957 |
| Bareilly | 1295 | Haldia | 1863 | Motihari | 1705 | Solapur | 605 |
| Belgaum | 773 | Hasan | 1148 | Mumbai | 263 | Srinagar | 2046 |
| Bellary | 1090 | Hissar | 1244 | Muzafarnagar | 1286 | Thane | 220 |
| Bhagalpur | 1908 | Hubli | 792 | Muzaffarpur | 1761 | Thanjavur | 1588 |
| Bhavnagar | 442 | Hyderabad | 910 | Mysore | 1263 | Thiruvanan- | 1742 |
| Bhopal | 651 | Imphal | 3115 | Nagpur | 747 | Thrissur | 1533 |
| Bhubanear | 1467 | Indore | 465 | Nanded | 633 | Tiruchrapali | 1534 |
| Bikaner | 937 | Jabalpur | 959 | Nashik | 235 | Tirunelveli | 1797 |
| Bilaspur | 1136 | Jaipur | 922 | Nellore | 1440 | Tirupati | 1427 |
| Calcutta | 2035 | Jaisalmer | 850 | Panaji | 770 | Tuticorin | 1778 |
| Chandigarh | 1408 | Jalandhar | 1500 | Paradwip | 1661 | Udaipur | 507 |
| Chennai | 1605 | Jammu | 1719 | Pathankot | 1646 | Ujjain | 520 |
| Chittardurga | 1074 | Jamnagar | 557 | Patna | 1564 | Ulhasnagar | 247 |
| Coimbatore | 1464 | Jhmsedpur | 1694 | Pondicherry | 1493 | Vadodara | 142 |
| Cuttack | 1562 | Jhansi | 940 | Porbandar | 685 | Varanasi | 1327 |
| DehruDun | 1405 | Jodhpur | 773 | Pune | 362 | Vijayawada | 1184 |
| Delhi | 1170 | Jorhat | 2934 | Purulia | 1789 | Vishaapatam | 1476 |
| Dhanbad | 1860 | Kakinada | 1352 | Raipur | 1025 | Warangal | 966 |