Card Types, Features & Services
Card Features
Co-branded Card
Surat Money Card is a co-branded card launched by Surat Municipal Corporation and ICICI Bank Limited.
Open Loop Card
Being an Open Loop Card, Surat Money Card can be used outside SMC merchant environment i.e. in retail environment as well.
RuPay Card
Surat Money Card is RuPay card which is in line with Government of India's vision to offer a domestic, open-loop, multilateral payment system. RuPay, a new card payment scheme is launched by the National Payments Corporation of India (NPCI).
Card Types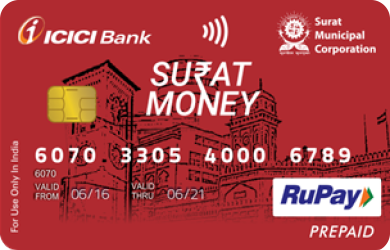 Non-Personalized Surat Money Card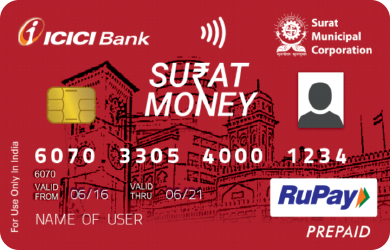 Personalized Surat Money Card
Services Covered
BRSTS & City Bus Travel and Passes.
Library Membership Card.
Swimming Pool & Sports Facility Membership Card.
Payments of Property Tax, Profession Tax, Water Bill etc.
Payments at recreation facilities like Science Center, Aquarium, Nature Park & Zoo.
Usage in retail - Malls, Restaurants and Retail Outlets.