LIG Housing Scheme
Brief Detail of the Scheme
LIG Housing Scheme
Title
Description

Total Target given under Govt. of India's 20 point program

65

Surat Municipal Corporation had planned & constructed

113

Construction Completed

113

Allotment

99 (By public Draw System)
14 (Allotted to special cases under permission of General Board)

Built up area

38 smt/unit (Gr. + 3 storied structure - 15 flats / bldg)

Income ceiling

Gross family income upto Rs. 2501/- to 5500/- month

Unit Cost

Rs.2,00,000/- (Incl. land, construction, infrastructure cost.)
Beneficiary's contribution
Loan component

Rs. 60,000/-
Rs. 1,40,000/-
(The beneficiaries will have to repay loan amount in 180 installments. The equated monthly installments (EMI) will be as per given by financing agency.)

Average housing density

376 D.Us./Hectare

Salient Features

Two Rooms, Kitchen, W.C., Bath, Balcony, Under ground and Overhead water tank and all infrastructure facilities like water supply, drainage, street light, Road.
Typical Floor Plan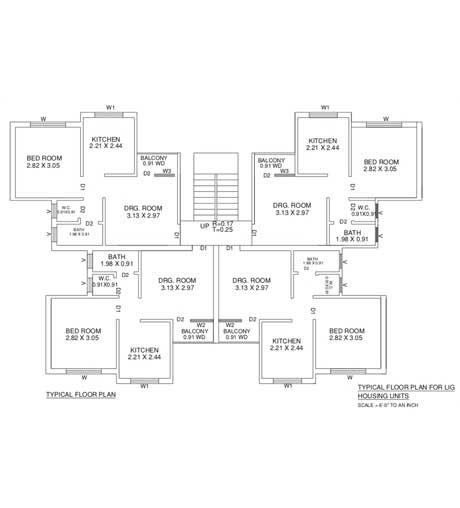 List of LIG Housing ongoing (MMGY) Projects
Please scroll/drag below block to view whole data
List of LIG Housing ongoing (MMGY) Projects
No.
Project Site Detail
No. of units
No of Contractor
Date of
Work Order
Work In
Progress
Tender Amount
in Lacks
Remarks
1
Construction Of 224 LIG (High-Rise) Houses at T.P.-14 (Pal),F.P. No.161 R-3 (Package-I) Under Chief -Minister (GRUH) Housing Scheme.
224
Skyway Infraproject, Mumbai
23/12/2013
WIP
1755.98
2
Construction Of 288 LIG (High-Rise) Houses at T.P.-14 (Rander-Adajan),F.P. No. 157 (Package-I) Under Chief -Minister (GRUH) Housing Scheme.
288
M/s. R. N. Dobaria, Surat
23/12/2013
WIP
2376.67
3
Construction Of 224 LIG (High-Rise) Houses at T.P.-35 (Katargam),F.P. No. 121, Under Chief -Minister (GRUH) Housing Scheme.
224
M/s. Natvar Construction Co. Surat
23/12/2013
WIP
1709.78
4
Construction Of 176 LIG (High-Rise) Houses at T.P.-35 (Katargam),F.P. No. 122, Under Chief -Minister (GRUH) Housing Scheme.
176
M/s. R. N. Dobaria, Surat
23/12/2013
WIP
1435.18
5
Construction Of 160 LIG (High-Rise) Houses at T.P.-2 (Vesu-Bharthana),F.P. No. 207, Under Chief -Minister (GRUH) Housing Scheme.
160
M/s. Tirupati Constuction, Surat
23/12/2013
WIP
1213.65
6
Construction Of 120 LIG (High-Rise) Houses at T.P.-35 (Katargam),F.P. No. 116, Under Chief -Minister (GRUH) Housing Scheme.
120
M/s. Natvar Construction Co. Surat
23/12/2013
WIP
1004.21
7
Construction Of 219 LIG (High-Rise) Houses at T.P.-2 (Vesu-Bharthana),F.P. No. 214 (Package-IV) Under Chief -Minister (GRUH) Housing Scheme.
219
M/s. Natvar Construction Co. Surat
23/12/2013
WIP
1540.18
8
Construction Of 240 LIG (High-Rise) Houses at T.P.-3 (Rundh),F.P. No. 66 (Package-I) Under Chief -Minister (GRUH) Housing Scheme.
240
Skyway Infraproject, Mumbai
23/12/2013
WIP
1794.70
9
Construction Of 296 LIG (High-Rise) Houses at T.P.-3 (Rundh),F.P. No. 66 (Package-II) Under Chief -Minister (GRUH) Housing Scheme.
296
Skyway Infraproject, Mumbai
23/12/2013
WIP
2100.82
10
Construction Of 276 LIG (High-Rise) Houses at T.P.-30 (Rander),F.P. No. 27 , Under Chief -Minister (GRUH) Housing Scheme.
276
D.H.Patel
27/01/2014
WIP
2001.40
11
Construction Of 110 LIG (Low-Rise) Houses at T.P.-2 (Vesu-Bharthana),F.P. No. 231 & Construction Of 25 LIG (Low-Rise) Houses at T.P.-2 (Vesu-Bharthana),F.P. No. 229 Under Chief -Minister (GRUH) Housing Scheme.
110
M/s. Natvar Construction Co. Surat
27/01/2014
WIP
985.80
25
12
Construction Of 84 LIG (Low-Rise) Houses at T.P.-20 (Nana-Varachha-Kapadara),F.P. No.102, Under Chief -Minister (GRUH) Housing Scheme.
84
Vraj Construction Co.
27/01/2014
WIP
541.44
13
Construction Of 224 LIG (High-Rise) Houses at T.P.-28 (Althan-Bhatar),F.P. No. 156 (Package-I) , Under Chief -Minister (GRUH) Housing Scheme.
224
M/s A. M. BHANDERI
27/01/2014
WIP
1563.31
14
Construction Of 224 LIG (High-Rise) Houses With Compound Wall at T.P.-28 (Althan-Bhatar),F.P. No. 156 (Package-II) , Under Chief -Minister (GRUH) Housing Scheme.
224
M/s A. M. BHANDERI
27/01/2014
WIP
1563.31
15
Construction Of 212 LIG (High-Rise) Houses at T.P.-28 (Althan-Bhatar),F.P. No. 156 (Package-III) , Under Chief -Minister (GRUH) Housing Scheme.
212
M/s A. M. BHANDERI
27/01/2014
WIP
1548.19
16
Construction Of 208 LIG (High-Rise) Houses With Compound Wall at T.P.-2 (Vesu-Bharthana),F.P. No. 214 (Package-I) Under Chief -Minister (GRUH) Housing Scheme.
208
M/s. Natvar Construction Co. Surat
27/01/2014
WIP
1491.81
17
Construction Of 208 LIG (High-Rise) Houses at T.P.-2 (Vesu-Bharthana),F.P. No. 214 (Package-II) Under Chief -Minister (GRUH) Housing Scheme.
208
M/s. Natvar Construction Co. Surat
27/01/2014
WIP
1454.62
18
Construction Of 208 LIG (High-Rise) Houses at T.P.-2 (Vesu-Bharthana),F.P. No. 214 (Package-III) Under Chief -Minister (GRUH) Housing Scheme.
208
M/s. Natvar Construction Co. Surat
27/01/2014
WIP
1461.75
19
Construction Of 192 LIG (High-Rise) Houses at T.P.-14 (Pal),F.P. No. 161 R-3 (Package-II) Under Chief -Minister (GRUH) Housing Scheme.
192
Vinay Infratech Pvt. Ltd.
28/01/2014
WIP
1739.69
20
Construction Of 90 LIG (High-Rise) Houses at T.P.-30 (Rander),F.P. No. 23 & Construction Of 40 LIG (Low-Rise) Houses at T.P.-10 (Pal),F.P. No. 189 & Construction Of 32 LIG (High-Rise) Houses at T.P.-31 (Adajan),F.P. No. 187 Under Chief -Minister (GRUH) Housing Scheme.
90
Tirupati Construction
22/02/2014
WIP
1393.79
40
WIP
32
WIP
21
Construction Of 168 LIG (High-Rise) Houses at T.P.-3 (Rundh),F.P. No. 73 , Under Chief -Minister (GRUH) Housing Scheme.
168
Standard Buildcon
12/02/2014
WIP
1327.87
22
Construction Of 230LIG (High-Rise) Houses at T.P.-4 (Rundh-Magdalla),F.P. No. 63 (Package-I) Under Chief -Minister (GRUH) Housing Scheme.
224
Tirupati Construction
12/02/2014
WIP
1713.02
23
Construction Of 192LIG (High-Rise) Houses at T.P.-4 (Rundh-Magdalla),F.P. No. 63 (Package-II) Under Chief -Minister (GRUH) Housing Scheme.
192
Tirupati Construction
12/02/2014
WIP
1454.63
24
Construction Of 256 LIG (High-Rise) Houses at T.P.-4 (Rundh-Magdalla),F.P. No. 64 (Package-I) Under Chief -Minister (GRUH) Housing Scheme.
256
Tirupati Construction
12/02/2014
WIP
1928.92
25
Construction Of 192 LIG (High-Rise) Houses at T.P.-4 (Rundh-Magdalla),F.P. No. 64 (Package-II) Under Chief -Minister (GRUH) Housing Scheme.
192
Tirupati Construction
12/02/2014
WIP
1428.16
26
Construction Of 224 LIG (High-Rise) Houses at T.P.-4 (Rundh-Magdalla),F.P. No. 64 (Package-III) Under Chief -Minister (GRUH) Housing Scheme.
224
Tirupati Construction
12/02/2014
WIP
1717.18
27
Construction Of 144 LIG (High-Rise) Houses at T.P.-19 (katargam),F.P. No. 180, Under Chief -Minister (GRUH) Housing Scheme.
144
M/s R.N.Dobaria
12/02/2014
WIP
1137.55
28
Construction Of 73 LIG (Low-Rise) Houses at T.P.-19 (katargam),F.P. No. 202,&Construction Of 30 LIG (Low-Rise) Houses at T.P.-19 (katargam),F.P. No.184,& Construction Of 40 LIG (High-Rise) Houses at T.P.-19 (katargam),F.P. No. 183 , Under Chief -Minister (GRUH) Housing Scheme.
73
D.H.Patel
30/05/2014
WIP
1177.43
30
40
29
Construction Of 240 LIG (High-Rise) Houses at T.P.-33 (Dumbhal),F.P. No. R/7, (Package-I) Under Chief -Minister (GRUH) Housing Scheme.
240
Standard Buildcon
22/02/2014
WIP
1718.71
30
Construction Of 180 LIG (High-Rise) Houses at T.P.-33 (Dumbhal),F.P. No. R/7, (Package-II) Under Chief -Minister (GRUH) Housing Scheme.
180
Standard Buildcon
22/02/2014
WIP
1319.23
31
Construction Of 128 LIG (High-Rise) Houses at T.P.-61 (Parvat-Godadara),F.P. No. 227 (Package-I) Under Chief -Minister (GRUH) Housing Scheme.
128
M/s R.N.Dobaria
12/02/2014
WIP
952.98
32
Construction Of 192 LIG (High-Rise) Houses at T.P.-61 (Parvat-Godadara),F.P. No. 227 (Package-II) Under Chief -Minister (GRUH) Housing Scheme.
192
M/s R.N.Dobaria
12/02/2014
WIP
1396.21
33
Construction Of 72 LIG (High-Rise) Houses at T.P.-14 (Pal),F.P. No. 164,&Construction Of 48 LIG (High-Rise) Houses at T.P.-32 (Adajan),F.P. No. 130, Under Chief -Minister (GRUH) Housing Scheme.
72
M/s natvar Const. Co.
12/02/2014
WIP
1063.72
48
34
Construction Of 640 LIG (High-Rise) Houses at T.P.-7 (Vesu -Magdalla),F.P. No. 131 (Package-I) Under Chief -Minister (GRUH) Housing Scheme.
640
M/s R.N.Dobaria
12/02/2014
WIP
4406.57
35
Construction Of 704 LIG (High-Rise) Houses at T.P.-7 (Vesu -Magdalla),F.P. No. 131 (Package-II) Under Chief -Minister (GRUH) Housing Scheme.
704
M/s R.N.Dobaria
12/02/2014
WIP
4756.54
36
Construction Of 128 LIG (High-Rise) Houses at T.P.-32 (Adajan),F.P. No. 116, Under Chief -Minister (GRUH) Housing Scheme.
128
Shriji Krupa Project
12/02/2014
WIP
933.41
37
Construction Of 288 LIG (High-Rise) Houses at T.P.-25 (Singanpore-Tunki),F.P. No. 64 (Package-I) Under Chief -Minister (GRUH) Housing Scheme.
288
Backbone Enterprise
12/02/2014
WIP
2133.82
38
Construction Of 288 LIG (High-Rise) Houses at T.P.-25 (Singanpore-Tunki),F.P. No. 64 (Package-II) Under Chief -Minister (GRUH) Housing Scheme.
288
Backbone Enterprise
12/02/2014
WIP
2133.82
39
Construction Of 192 LIG (High-Rise) Houses at T.P.-25 (Singanpore-Tunki),F.P. No. 64 (Package-III) Under Chief -Minister (GRUH) Housing Scheme.
192
M/s R.N.Dobaria
12/02/2014
WIP
1548.87
Total
8721
64924.96
List of LIG Housing Projects
List of LIG Housing Projects

| Sr. No. | Location | No. of units | Plot area Sq.mt | Estimated cost In lacs | Remarks |
| --- | --- | --- | --- | --- | --- |
| 1. | T.P.Scheme No. 13 (Adajan) F.P.NO 30 | 75 | 1910 | 150 | Allotted to the beneficiaries by draw. |
| 2. | T.P.Scheme No.32 (Rander-Adajan) F.P.No. 151 | 38 | 1084 | 76 | Allotted to the beneficiaries by draw. |
| | Total | 113 | 2994 | 226 | |