Water Supply - Initiatives Taken
Water Supply Grid System - for uninterrupted water supply
Initially, entire water supply for Surat city was dependant on one water works only. Therefore, shutdown/ closure of the plant caused regular interruption in the entire water supply system.
Today, there are four water works and ten water distribution stations interconnected in a grid in such a way that;

Failure of any water works does not cause any disruption on the entire water supply system
All the water distribution stations can be fed from any of the alternative water works.

Dual power supply has been provided at all water works to ensure minimum disruption to water supply.
Quality Assurance
Conventional Coagulant Alum is replaced with PAC (Poly Aluminium Chloride) in water treatment process. PAC is advanced coagulant, which helps removal of algal content, minimizes water losses during water treatment process and improves water quality.
Online Water Quality Monitoring System:- Water Supply System of Surat City is 100% based on surface water of river Tapti. In order to meet and ensure the treated water quality in accordance to the drinking water standard IS 10500:1991 edition 2.2, online water quality monitoring system is deployed for round the clock monitoring of essential water quality parameters like pH, Turbidity, Free Residual Chlorine, Total Dissolved Solids (TDS), Dissolved Oxygen. This system has got inbuilt capability to store database for monitored parameters. This helps better water treatment process control and ensures water quality.
Consumer Water Quality Monitoring:- This system is established to follow the protocol of collection of water samples from various consumers as per CPHEEO and WHO guidelines. More than 180 samples are collected from the consumer end and taken to the dedicated analytical laboratory. As per guidelines all samples are analyzed to ensure its fitness. Moreover, Free Residual Chlorine (FRC) is also being analyzed at consumer end during supply hours to ensure minimum FRC of 0.2 ppm.
As a part of Water Quality Monitoring System, consumer water samples are collected and analyzed in dedicated laboratory. Details of zone wise status of unfit samples along with its location are published on SMC's website on monthly basis.
Deweeder Machine:- Deweeder Machine is deployed in River Tapti for the removal of floating, submerged and rooted vegetation from reservoir. This machine is imported from Netherlands and having capital cost of Rs.2.20 Crore. Machine is in operation since May 2007 and since then about 23,000 MT of vegetation is removed.
Private Sector Participation
With a view to control O & M expenditure and introduce operational efficiencies, Surat Municipal Corporation has given annual contracts to private agencies for:
Operation & Maintenance of Water Treatment Plants.
Operation & Maintenance of Water Distribution Stations.
Valve operation in the different parts of the city.
Collection of water samples during the water supply period.
Housekeeping of Water Works & Water Distribution Stations
Outsourcing by comprehensive management contract for O&M of New North area (Amroli, Kosad, Chhaprabhatha, Mota Varachha, Utran & Variav) water supply system on 24x7 water supply basis (implemented under JnNURM) covering scope of work from raw water up to consumer point including giving new water connection with water meter, reading & billing etc.
ISO-9001-2008 Certification for Water Supply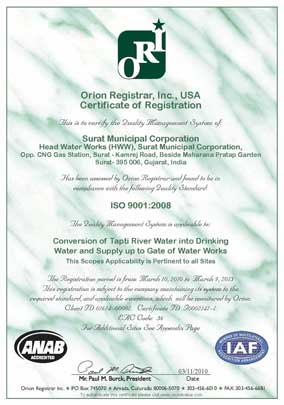 Surat Municipal Corporation is among a very few local bodies in the country which has already acquired ISO:9001:2008 certification for implementing Quality Management System (QMS) at all water works.
QMS consists of treatment water quality control, engineering & maintenance, administration, house-keeping & maintaining all records at all water works and defines clear-cut distribution & allocation of duties & responsibilities among the staff.
Each aspect of QMS is being maintained to meet its individual objective which in turn is directed to achieve the common goal of the department to provide safe, sufficient & regular potable water supply of the given standards to citizens of Surat consistently.
This ISO certificate has been awarded by Orion registrar Inc., USA and its' validity is up to March 9, 2013.
Alternate Source of Raw Water
Since centuries, city is substantially dependent on surface water of river Tapi for daily water supply.
In the absence of any alternative source of water, city water supply may get hampered due to any unforeseen situation (like drought in consecutive years) in future.
To create an alternate source of water, three options are being actively considered:

Laying 58 Km. long pipeline from Kakrapar to Surat
Constructing 2 new French wells
Construction of Balloon Barrage
Leakage Mapping
As a part of constant endeavor to achieve the targeted benchmark of 15% losses, Non-Revenue Water (NRW) cell of Surat Municipal Corporation has been set up and has started functioning recently.
Leakage Mapping has been an important activity of recently formed NRW cell, this initiative was actually started in year 2007.
It has been observed that, after the Leakage Mapping initiative, the number of leakages in the central zone has reduced gradually. The same is evident for other zones as well. Thus, leakage mapping resulted in saving of precious potable water and also reduction in the probability of occurring water borne diseases. Positive impact of reduced number of leakages has been depicted well in the chart below:
Water audit ("a thorough accounting of all water into and out of a utility as well as an in-depth record and field examination of the distribution system that carries the water, with the intent to determine the operational efficiency of the system and identify sources of water loss and revenue loss") will help to keep track of water that is being lost and thus to know the extent of NRW.
It has been observed that, after the Leakage Mapping initiative, the number of leakages in water supply pipelines reduced gradually in last 7 years. In the recent years, length of water supply pipeline network has also increased considerably from 2100 Km in year 2005-06 to about 2950 Km at present. Hence ratio of numbers of leakages per km length of pipeline is very important, which is shown graphically in the chart below: